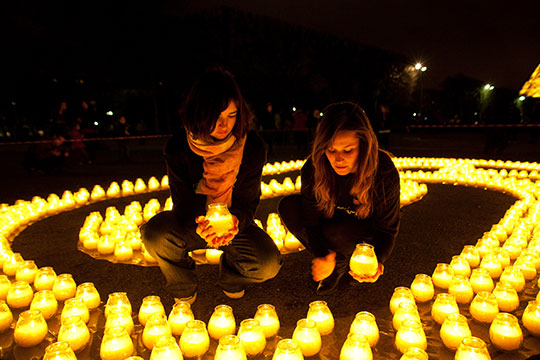 Earth Hour – the phenomenon that was started in Australia and embraced by the world – is returning at 8.30pm on 23 March.
Earth Hour is a gathering of the global community to show what one simple idea can achieve, and what one person's actions can inspire. Thanks to your support, it has become the largest global movement for the environment. It is much, much more than a symbolic action of switching off lights for an hour; it's a continuous movement driving real actions, big and small, that are changing the world we live in. From new legislation in the Russian parliament to better protect seas from oil pollution, to the initiation of two huge reforestation projects in Africa – the impact of Earth Hour is widespread and real.
In 2013, Australians are leading the world again. This Earth Hour, we aren't just switching off their lights as a show of unity in protecting the planet. We're taking action into their own hands, and pledging to switch on to renewable energy.
The reason – our planet is in serious need of our help. As energy demands and carbon emissions continue to rise, and the negative impacts of climate change increase, we must stop burning fossil fuels to meet our energy needs. And with electricity prices skyrocketing, there's never been a better time to switch to clean, renewable energy.
Why renewables?
The renewables revolution is well and truly underway in Australia – 1.5 million Australian homes have already made the switch GreenPower or solar energy. Luckily, here in Australia we're blessed with a wealth of clean, renewable energy resources like solar, wind, wave and geothermal. Not only are these resources plentiful, they're getting cheaper as technology develops, making them more and more accessible to us all. In fact, through solar leasing schemes, solar power is now available for no upfront costs.
The first step to joining the renewables revolution is taking the pledge to switch. By taking the pledge – or indicating you've already switched – you go into the draw to win a FREE solar power system valued at $7500.*
Why pledge?
It sends a clear message to governments and corporate Australia that now is the time to secure our future and support the renewables revolution.
Your individual pledge will count towards your local community's tally in the Earth Hour Community Challenge.
If you opt in for the petition at the end of the pledge form, your voice will be heard and you will be assisting WWF in our goal to see the Renewable Energy Target increased to 50% by 2030.
You could win FREE SOLAR* for you or a friend.
*For terms and conditions click here
Once you've pledged, we'll give you all the information you need to turn your pledge into action and make the switch.
Our incredible planet needs you to lead once again. Switch off for good this Earth Hour… and switch on to renewable energy.